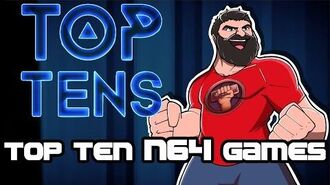 Top Ten Nintendo 64 Games is the 23rd (and Jirard's 21st) Top Ten list on The Completionist. In it, Jirard talks about his favorite games from Nintendo's third home console, the Nintendo 64. It was posted on July 1st, 2016.
The List
Edit
10. WWF: No Mercy
9. Gauntlet: Legends
8. Bomberman 64
7. Mystical Ninja Starring Goemon
6. Super Smash Bros.
5. Pokémon Snap
4. Star Fox 64
2. The Legend of Zelda: Majora's Mask
The Pokémon Snap section uses footage from PokeKellz's Let's Play of the game.
The Legend of Zelda: Ocarina of Time can be considered an honorable mention for this list, as Jirard admitted he had a tough time picking between it and Majora's Mask.
The Banjo Kazooie section uses the Big Bad Bosses song Bears and Birds.
Ad blocker interference detected!
Wikia is a free-to-use site that makes money from advertising. We have a modified experience for viewers using ad blockers

Wikia is not accessible if you've made further modifications. Remove the custom ad blocker rule(s) and the page will load as expected.