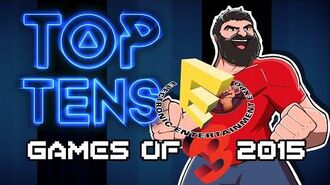 Top Ten Games of E3 2015 is the eighteenth (and Jirard's sixteenth) Top Ten list on The Completionist. In it, Jirard continues a tradition from last year and discloses the ten games he demoed at E3 2015 that he's most excited to play the full release of. It was uploaded on June 19th, 2015.
The List
Edit
10. Tearaway Unfolded
9. Assassin's Creed Syndicate
8. Guitar Hero Live
7. The Legend of Zelda: Tri Force Heroes
4. Mighty No. 9
3. Street Fighter V
2. For Honor
1. Cuphead
Ad blocker interference detected!
Wikia is a free-to-use site that makes money from advertising. We have a modified experience for viewers using ad blockers

Wikia is not accessible if you've made further modifications. Remove the custom ad blocker rule(s) and the page will load as expected.