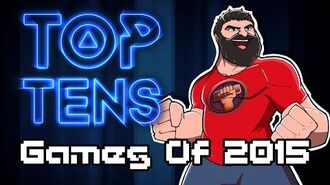 Top Ten Games of 2015 is the 21st (and Jirard's 19th) Top Ten list on The Completionist. In it, Jirard talks about the ten games that released in 2015 he enjoyed the most. It was released on January 8th, 2016.
Before officially starting the list, Jirard lists off some honorable mentions:
The Binding of Isaac: Afterbirth
Rocket League
Final Fantasy XIV Online: Heavensward
The Witcher III
Rise of the Tomb Raider
The List
Edit
10. Until Dawn
9. Assassin's Creed Syndicate
8. Keep Talking and Nobody Explodes
6. Splatoon
5. Fallout 4
4. Axiom Verge
3. Metal Gear Solid V: The Phantom Pain
2. Undertale
Ad blocker interference detected!
Wikia is a free-to-use site that makes money from advertising. We have a modified experience for viewers using ad blockers

Wikia is not accessible if you've made further modifications. Remove the custom ad blocker rule(s) and the page will load as expected.