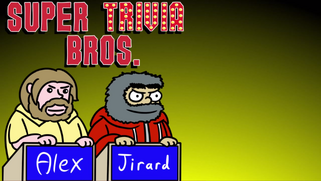 Super Trivia Bros. is a series on Super Beard Bros. in which Jirard plays through a game whilst Alex finds trivia about said game on the spot, with no research beforehand. The two then race to see who can finish their goals before the other, and the loser must endure a pre-determined punishment. In this series, it's all about brains vs speed!
Scores are updated upon release of the next Super Trivia Bros. Episode or 1 week after the video's initial release, so that spoilers may be further avoided.
The winner of this episode is... Jirard!
For the week after this episode aired, Alex had to switch his Twitter name from "Alex Faciane" to "Jirard's Dragon." This was accompanied by SomeThomas drawing an amazing picture, in light of Jirard's win.
The winner of this episode is... A Tie!
For a week after this episode Jirard had to change is Twitter name to Follow @FacianeA and Alex had to put a Dude Wheres My Car? reference into an episode of The Dex. This joke took place at the end of the Quagsire Episode during the battle strategy.
The winner of this episode is... Alex!
For the week after this episode, Michael (who was co-hosting in Jirard's place) had to change his Twitter picture to a drawing made by Alex for a week (pictured right). Although only supposed to keep the picture for a week, he kept it as his Twitter picture for much longer.
Ad blocker interference detected!
Wikia is a free-to-use site that makes money from advertising. We have a modified experience for viewers using ad blockers

Wikia is not accessible if you've made further modifications. Remove the custom ad blocker rule(s) and the page will load as expected.