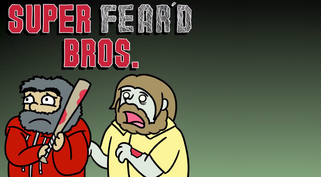 Super Fear'd Bros. is a series on Super Beard Bros. in which Jirard and Alex play through a horror game in the dead of night, a series which Alex says will not happen very often.
They tend to play the first 20 minutes of a game, just to get a feel, because Alex thinks that "They have to sell you on the scariness of the game in the first 20 minutes of the game."
Alex also does a bit of research before playing, although he doesn't do a whole lot. He feels that if he is constantly spouting out trivia, then that would take away from the horror of the spotlighted game.
This is the first new series of Super Beard Bros. to not be mentioned beforehand in the Reboot Video.
Ad blocker interference detected!
Wikia is a free-to-use site that makes money from advertising. We have a modified experience for viewers using ad blockers

Wikia is not accessible if you've made further modifications. Remove the custom ad blocker rule(s) and the page will load as expected.