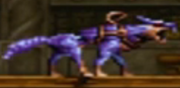 Bowser the dog is what Alex named the wolf transformation of Alucard in Castlevania Symphony of the Night.
He was first met in Episode 7 of Castlevaina SotN when Jirard had meant to transform into a bat, but instead accidentally transformed into the wolf and thought that the sound effect he made when barking was funny. In Episode 24, Alex suggested calling him Bowser.
Ad blocker interference detected!
Wikia is a free-to-use site that makes money from advertising. We have a modified experience for viewers using ad blockers

Wikia is not accessible if you've made further modifications. Remove the custom ad blocker rule(s) and the page will load as expected.